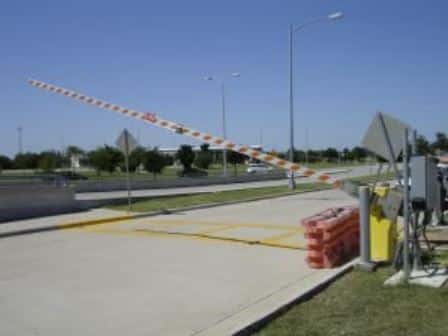 At Utah Gate Company, traffic control gates — also called barrier arms — are some of our bestselling products for commercial and industrial applications. We supply and install high-quality traffic control gates in Salt Lake County, Davis County, and Utah County.
Before entering parking areas, we usually come across barrier arms. Typically made of wood or aluminum, these gates provide affordable security and traffic control options for business operations.
What Are Barrier Arms?
Barrier arms are bars or poles used to control the entry and exit into and from a restricted area. Apart from parking areas, we usually find these machines at drawbridges, level crossings, and checkpoints.
At Utah Gate Company, we install and supply superior automatic traffic control gates to the community's business owners. Usually, raising barrier arms requires a ticket, code, or payment before the automated system allows safe passage. In most of our installations, a security system allows or denies entry while an electric motor raises and lowers barrier arms.
Benefits of Traffic Control Gates
We usually find automatic traffic control gates in developed areas; they play a crucial role in supporting business and government operations. Here are some advantages of top-quality barrier arms.
Enhanced Safety
Automatic traffic control gates are one of the best investments you can make to add a layer of protection to your property. They are ideal for lands that need enhanced security, such as restricted areas and government properties. For remote security checks, you can use our automatic gates with CCTV.
These gates discourage illegal entry, theft, and vandalism, adding a sense of safety and security for employees and authorized personnel.
Traffic Control
Our barrier arms provide superb traffic control. They are ideal for high-usage roads that need to restrict access to prevent congestion. These gates are perfect for ports and delivery areas.
Barrier arms are crucial for properties that need vehicles to pass one at a time, like in checkpoints. Additionally, some of our clients use these gates in conjunction with traffic lights to prevent collisions in limited spaces.
Parking Management
One of the most common uses of traffic control gates is parking management. You can use these gates to prevent unauthorized vehicles from entering your property, allowing more parking spaces for authorized ones.
Using high-quality barrier arms minimizes the need for parking attendants, leading to lower overhead costs.
Versatility
While we typically use traffic control gates in commercial areas, they have many other uses. Our personalized approach to supplying and installing these gates provides many benefits for landowners.
For example, some of our clients use our barrier arms with license plate reading technologies that allow office buildings to enhance security, manage traffic, and provide better parking services for tenants.
Protect Your Property Now
If you own a commercial property in Salt Lake, Davis, or Utah County that will benefit from restricted access, we recommend automatic traffic control gates for you. We have a wide variety of top-quality barrier arms you can choose from for varying preferences and budgets. Call us at 801-406-3957 for a free quote!