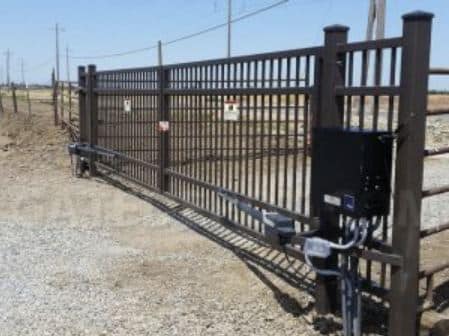 The Most Reliable Swing Gate Operators – Utah Gate Company
Gates are the portal to our homes and the first thing that people see upon reaching our properties. That's why gates should be safe and secure enough to keep trespassers away.
As we live in a modern, fast-paced environment, we want our gates to be secure, aesthetically pleasing, and convenient. Utah Gate Company's swing gate operators help you rest comfortably without any risks.
Whether you're in Salt Lake, Davis, or Utah Counties, we can give you the sturdiest swing gate operators and install them in no time.
Why You Need Automatic Gate Operators
Comfortable, Safe, and Secure
One of the biggest perks of automatic swing gate operators is convenience. You don't want to step out of your car and open the gate, especially during late hours or bad weather conditions.
These automatic gate operators also give you security. You can safely enter using telephone, keypad entry, and other options depending on which tool you want us to install.
More importantly, automatic gate operators will still do the job even when a power outage occurs in your area. They run on at least a 12-volt rechargeable battery.
Why Use Swing Gate Operators? – Utah Gate Company
Easy Installation
Installing a sliding gate needs more rigorous preparation as the driveway's surface has to be flattened properly. With swing gates, you won't experience this difficulty. The installation is relatively easier and more convenient, helping you save time and money.
If you have an uneven driveway or there is no wall or fence to allow the sliding gate to slide behind, use swing gate and swing gate operators. They are generally easier to maintain.
Suitable for Narrow Entrances
If you have a narrow driveway, take advantage of swing gate operators. Our swing gate operators take up very little space, making them suitable for narrow passages.
Increased Property Value
Getting yourself an automatic gate makes the value of your property higher. With Utah Gate Company's reliable swing gate operators, your gate becomes more functional and creates an aesthetic appeal. These features can attract potential buyers, should you decide to sell your property in the future.
Choosing Between Swing Gate Operators and Slide Gate Operators
We at Utah Gate Company understand the need to pick the right gate operator to keep your homes safe and secure. Swing gate operators are suitable for gates that open inward or outward.
Utah Gate Company's gate operators are installed towards the side of the gate, and they can function in different ways, such as remote control, mobile phone, and other wireless devices.
Meanwhile, sliding gates are advisable for commercial properties. If your residence has size limitations, use sliding gate operators because you only need room for one leaf to slide open. With proper consultation, we'll help you get the automatic gate operator that matches your needs.
Get the Best Swing Gate Operators – Utah Gate Company
With our highest quality swing gate operators, installed by our team of experts, your homes are guaranteed to be safe and secure. Contact us now so we can help you address your gate needs!